GOSPEL NUGGETS MISSIONS
There are over seven (7) billion people on planet earth and growing at the rate of over 132 million people per year. One third of the people on earth know something of Jesus Christ. That does not mean they are saved, but they do know who He is. Another third have heard of Jesus Christ but do not know anything about Him. Then, a very sad truth is, one third of the people on earth have never heard of the Lord Jesus Christ.

The Scripture makes it plain that if people do not know who Jesus is and trust Him to save them, they will be lost forever. Jesus Himself said, "Ye must be born again." It is the responsibility of all Christians to make Jesus known to everyone in the world.

In Matthew 28:18-20 Jesus gave His marching orders to the church: 18 And Jesus came and spake unto them, saying, All power is given unto me in heaven and in earth. 19 Go ye therefore, and teach all nations, baptizing them in the name of the Father, and of the Son, and of the Holy Ghost: 20 Teaching them to observe all things whatsoever I have commanded you: and, lo, I am with you alway, even unto the end of the world. Amen.

Through the years we have learned that the most effective way to reach the masses is with literature.
John chapter seventeen (17) is the prayer Jesus prayed to the Heavenly Father. In verse eight (8) Jesus said,
"I have given them the words which thou gavest me...," and in verse fourteen (14) He said, "I have given them thy word…." In the Bible God gave us sixty-six (66) books of literature. He gave us the Word of God because the Word of God will do the work of God. The Holy Spirit uses the Word to bring us to Christ and then grow us to Christian maturity, giving us assurance, hope and a great expectancy of His return for us.

We have received many invitations from different countries to come and preach and teach the Word of God. There have been pastors that literally begged me to come because they were desperate for someone to help them. I have gone overseas and preached and taught the Scripture, but I can only be in one place at a time. The cost to travel from country to country is prohibitive, and there are countries that a Christian can not enter, but literature and the air waves know no boundaries.

We learned that in third world countries from seven to ten people will read every piece of literature. So, we began printing gospel tracts and sending them to different countries. This has resulted in thousands of people being saved. Remember, the Word of God will do the work of God.

Gospel Nuggets Missions
Around the World!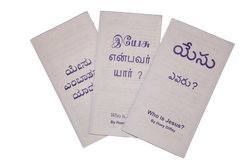 ​THOUSANDS OF GOSPEL TRACTS WRITTEN BY HUEY DIFFEY HAVE BEEN PRINTED IN THREE DIFFERENT DIALECTS IN INDIA.
PAKISTAN OUTREACH
Gospel Nuggets Reaches Out To Pakistan With Gospel Materials
Respected Sister Phyllis and Brother Huey,
Abundant blessings from CYP!
Praise the Lord for our Great Master is using our united labor for extending and strengthening His Kingdom of hope and truth across the vast landholdings where violence and sufferings are having stronghold and are extremely hostile for Gospel work, revival is coming to Pakistan like never before and tools of Urdu Gospel proclaimers and Brother Huey's translated material are being proved blessing of forever for hundreds of thousands, our hope is that the attached praise report from the grounds of Pakistan develops understanding on how passionately God is moving through our united labor. Please find the attached report and feel freedom for sharing it further with our fellow harvesters there, we are in united prayer ask to Lord for the blessing of Urdu Bibles as need has been intense for our indigenous Pastors taking Christ's mission beyond the boundaries and highly precious new converts are desperately in need of deeper Gospel knowledge into local language, please keep praying also for our Pastors Faisal, Shamas and Sister Sonia as they are moving today for mission trip across SIDNH province covering challenging traveling of 26 hours with the mission of evangelism with HINDU communities and training new converts for bringing their entire villages into Christ's saving fold - Praying and looking to hear!
Yours Brother for reflecting Christ,